If you're into saving money, then you've probably heard of Paribus. And if you're anything like me, you don't just sign up for things with finding out if they're legit first (smart.) That's why I'm writing this Paribus review – so you can learn all about the service, and find the answers to common questions you might have, like "Is Paribus a scam?", "Is Paribus Safe?" and "Does Paribus really work?"
Paribus Review
Paribus was founded in 2014, and they experienced rapid success. In 2016, due to their massive popularity and success at helping people save money Paribus was acquired by Capital One, a huge financial corporation. This fact alone pretty much answers the question, "is Paribus legit?" Capital One is a massive, trustworthy financial corporation and they have put their name behind Paribus.
How to Join Paribus
It's free and easy to join Paribus and start saving money. Just click here to join Paribus for free. You'll be taken to the sign up screen – just click agree to the terms & conditions, choose your email service provider and you're ready to go.
How Does Paribus Work?
The concept behind Paribus is actually very simple – whenever you buy an item online, Paribus will make sure that if the price drops after you've bought it you'll get a refund of the difference.
I don't know about you, but I've experienced that happening multiple times. You shop around for the best deal, think you've found it, buy the item and then next week you see the store has it on sale for $20 less than what you paid. That won't matter anymore when you join Paribus.
When you have Paribus installed, they will scan all the receipts in your inbox and then check to make sure that the price hasn't dropped. If Paribus detects a price drop, then they will act on your behalf to get you a refund of the difference.
Does Paribus Do Price-Matching?
Another awesome feature of Paribus is that they do price matching. Did you know that lots of stores will actually match the price of a competitor? It's not some thing that most stores advertise, but it's true. If the price is lower at a competitor, you just need to bring it to the stores attention and they will give you the lower price.
Of course, this can be time-consuming and you don't know how much every single store is selling an item for. This is another thing that Paribus does – price matching. Paribus will scan your receipts and if they find that item for a lower-price at a competitor store, then Paribus will act on your behalf to try and get the store to honor the competitors pricing.
Is Paribus Safe?
I can totally see why you might ask "is Paribus safe?" You do have to give them access to your inbox so they can scan your receipts, so it's a valid question. I thought the same thing, but I can tell you that, yes, Paribus is safe.
Paribus uses a complex proprietary logic to determine which of your emails are receipts. Those are the ONLY emails that Paribus will open, and it's ONLY for the purpose of getting you cash back. They will NEVER open any other type of email.
If you're tech-savvy, then you'll also be happy to know that Paribus employs multi-level security measures, including dedicated firewalls, VPN services, intrusion prevention systems and stringent access controls.
In a nutshell, your email is incredibly safe with Paribus, and the only reason they access your receipts is to get you cash back. Of course, you can always sign up to Paribus have a dedicated email address that is only for online shopping if you'd prefer.
Is Paribus Legit?
Paribus is definitely legit. As I mentioned above, Paribus was started in 2014 but because of the immense success they experienced, they were acquired by Capital One. Since they were founded in 2014, Paribus has helped shoppers save over $29 million.
If you look on the Paribus website, you'll see that there are testimonials from people who have saved money using the app. When I looked, I found a woman who saved $22 in the first week of using Paribus. Of course, there are no guarantees that you will save money using Paribus. If the price doesn't drop, then you won't receive any money (because there is nothing to refund.)
Who Does Paribus Partner With?
Right now, Paribus has partnered with 25+ major retailers, including Amazon, Target, Walmart, Nordstrom, Macy's, Gap and others. Most people who do online shopping will shop at at least one, if not more of the retailers that Paribus has partnered with (more than 75% of online shoppers shop at Amazon, and Amazon is one of the major Paribus partners.)
Save Money on Hotels With Paribus
If you book travel online, you'll be happy to know that Paribus has also partnered with some of the major online booking websites, including Expedia, Booking.com, Hotels.com, Priceline, Hilton and Marriott. If you book a hotel online through any of these sites, Paribus will keep an eye on the room prices. If the price drops after you've booked, Paribus will help you rebook and get money back.
How Does Paribus Pay?
Getting paid with Paribus is really easy – you don't actually have to do anything. When Paribus has determined that there is a drop in the price you paid, they will contact the retailer. Once the retailer has confirmed the price-drop, they will refund the difference using the same form of payment you used. For example, if you paid with a Visa credit card, the retailer will refund the difference back to that same Visa credit card. You DO NOT have to link up your bank account or credit card to Paribus. You'll typically receive your refund within 3-7 days, depending on the retailer.
How Much Does Paribus Cost?
Paribus is completely FREE to use. You do not need to enter your credit details to use Paribus, you simply enter your email address and Paribus does the rest.
Paribus App
Almost everyone has a smartphone these days, and most of us also do online shopping on our smartphone. So it makes sense that there is also a Paribus app along with a website. If you're on your smartphone while you're reading this Paribus review, you can just click on this link to sign up and then download the app, too.
How to Join Paribus
If you haven't already, just click here to join Paribus. All you need to do is choose your email service provider, enter your email address and follow the prompts. It's quick and easy to set up, and you'll be on your way to saving money on auto-pilot with Paribus.
Paribus Review Conclusion
I hope this Paribus review has answered all of your questions about the free Paribus website and app. In short, Paribus is a great, easy-to-use service that is completely safe and can help you save money. It's super fun to see a little deposit here and there and if you're a regular online shopper, this can really add up. Click here to join Paribus now!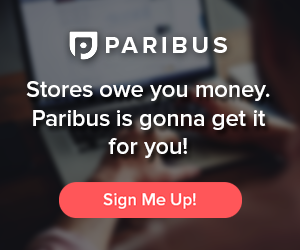 Please follow and like us: